Time for a nursery renovation report. Ok, so I've totally lost track of the days, but lots has been done! In fact, the walls were painted today and all that's left is painting the trim, installing the flooring and adding the baseboards. After that it's up to the decorating team!
Here are the latest pictures:
Ta Da!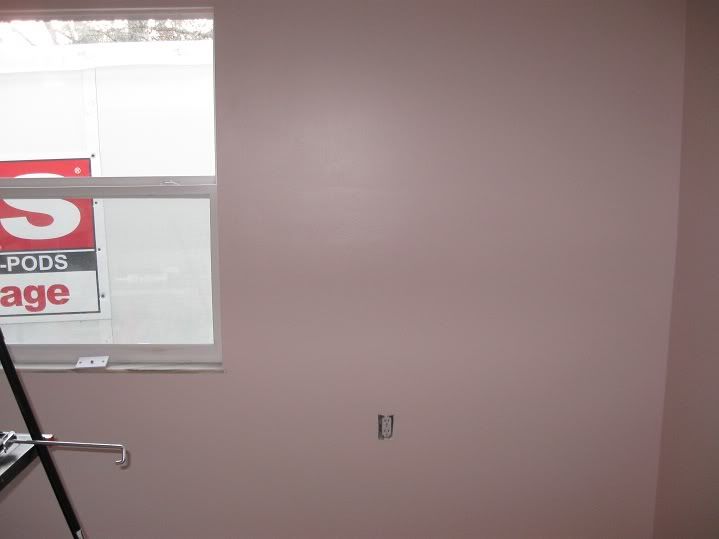 Ok, so it's pink.
I know I said we wouldn't be doing pink, but this is a really nice pink! And it will go great with the navy blue toile and valance.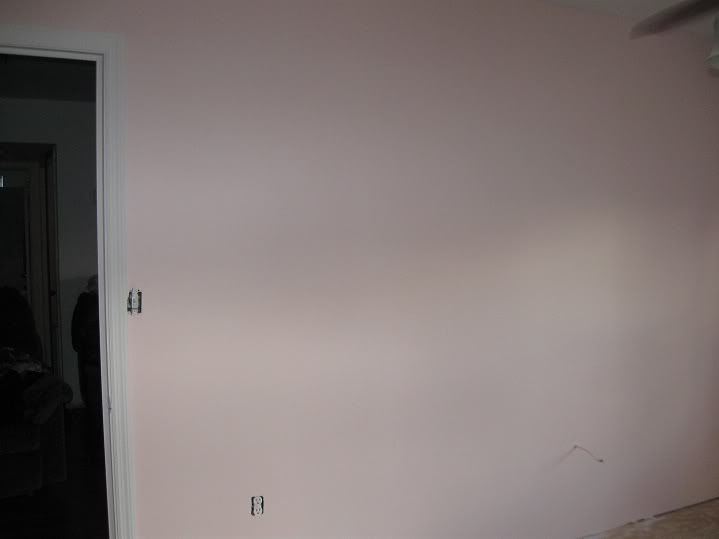 In fact, the fabric store called last night and said the fabric is here. I'm not sure if it's all the fabric or just some of it, but soon it'll be in my hot little hands and ready for Nana to work her sewing magic!
Which hey, that reminds me, I haven't actually blogged about the fabric and stuff yet have I? Well Nana and I went fabric store shopping last weekend. See Tom and Greg were ready to prime and paint, but I had to pick the paint color. Rather than just pick a color and then try to match everything to that, I wanted to pick the fabrics for the cribskirts and drapes first. So we had to get to the fabric store.
It took forever, about four hours, to find what I wanted. Fabrics and colors are NOT my strong suit. So it was pretty hard. But I picked a valance pattern and then fabrics. The first fabric I actually really liked was a navy toile fabric. I thought of course that wouldn't work in a nursery, but then decided it totally could if we just borrowed the color and used the toile on the daybed and the tuffet that Donna's making. So I used the toile color as the inspiration and then we picked navy blue with tiny white dots for the valance, a blue and white stripe for a roller shade, and then we'll buy eyelet sheers for the windows too.
The toile fabric sample:
The drawing of the valance, sheers (with holdbacks) and rolling shade (Donna's drawing):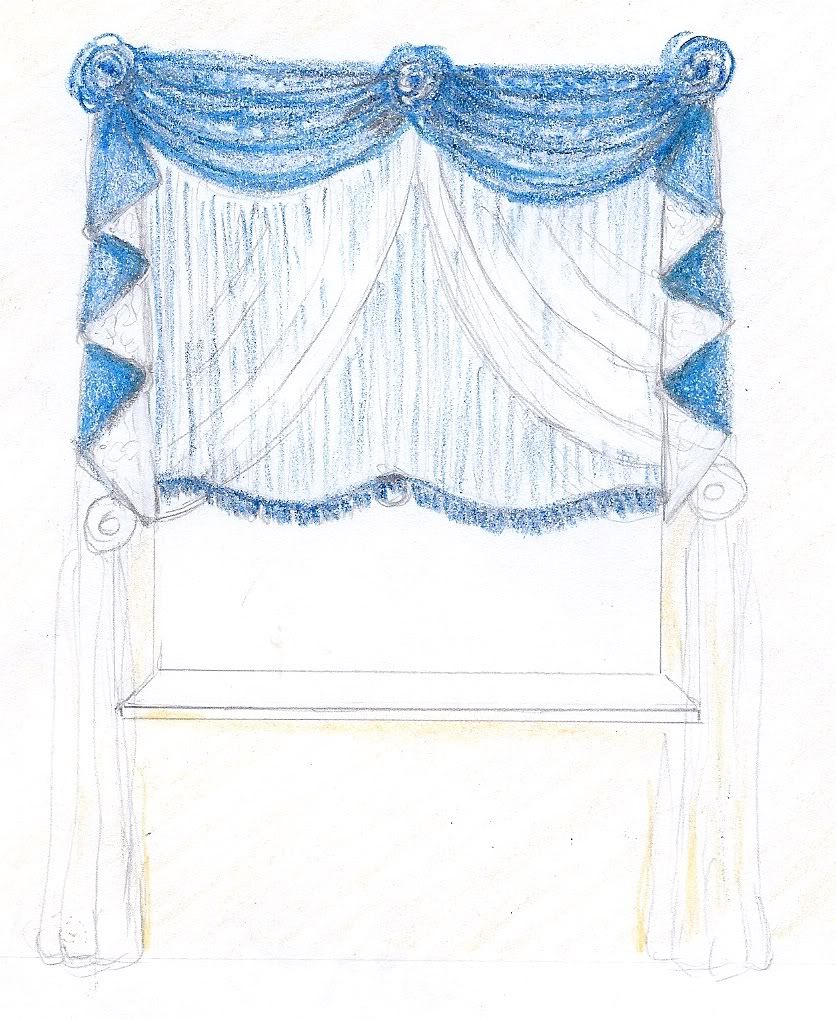 For the cribskirts I picked a beautiful white on white embroidered fabric. It's almost like an eyelet, but without the holes. We'll use the breathable bumpers like we did with Nicky's crib. I'll get them in white, and then Donna is going to embellish them on the outside with a navy and white dot ribbon along the top. Donna's making a tuffet and a bedspread for the daybed out of the toile. Maybe a few pillow shams too. And I'm buying a white eyelet twin bedskirt for the daybed. So fabric-wise we're doing navy and white. Not very exciting. Fairly neutral actually.
Then I chose the prints I want for the room. There are six of them, two sets of three that I thought look good together. They are from this great fairy series from about the 1930's by Cicely Mary Barker. She has a website
here
and the prints I chose are:
Almond Blossom Fairy
Pear Blossom Fairy
Sweet Pea Fairies
Rose Fairy
Phlox Fairy
Heliotrope Fairy
The first three have light backgrounds and the second three have darker backgrounds. Not sure where I'll put them yet, maybe in frames on the walls, maybe on a shelf, maybe both. We'll see. I'm planning to get them about a 5x8 size or slightly smaller and then frame them in a 5x8 frame with matting.
So then we have the fabric selected, the prints selected and it was time to find paint. I just did not have the energy to go to Lowe's myself, so Donna picked up paint chips for me, then I searched online using the Olympic paint website that allows you to try out different paint combos on an image. That was really helpful, alhtough the colors on the computer screen are never quite like they are in real life. So I picked some other colors for Tom to grab chips for. He brought them and a few extras home and I used Nicky's navy jacket to help me pick out a color for the walls and a white for the trim and ceiling.
It was really close. I liked both the Cream Rose and the Butter yellow colors. But when Tom and I took the chips into the room to see them in that lighting, the Cream Rose was definitely much much better. So Tom bought it the next day and voila! It's painted! It looks really great too.
This project is coming together!