So I better add something new!
The only things I can think about though are that we got the official Nuchal Translucency results. We actually got them on the way to my Glucose Tolerance Test. Still waiting on the GTT results, but the Nuchal Translucency results were great. If you recall, we'd done the Quad Screen with Nicky and it had given us a bit of a scare with the risk of Trisomy 18 being really high. Of course that turned out to be a false positive, but then we did know that the results of the Quad Screen give something like 20% false positives. Well, the Nuchal Translucency checks for Trisomies 21 (Down's), 18 and 13. And the results have only a 5% chance of error. Much better. Our results were something like a 1 in 4000 chance of Down's and 1 in 8000 chance of Trisomies 18 or 13. Excellent!
The next steps are the GTT test to see if I'm developing Gestational Diabetes again. This was an early screen and I'll probably have to do it again later in the pregnancy. I also did an AFP screen which checks for potential for spina bifida or cystic fibrosis, or something like that. Something that the Nuchal Translucency didn't check for. We should have those results in another week.
Then the big day we're all waiting for is January 14th! That's when we have our Level II ultrasound and find out if these are boys, girls or one of each. We're so excited about that! Once we know that we can really get started on planning the room and stuff. You know, all the FUN stuff!
We also think we've settled on the names.
If one of each:
Lilianna Elizabeth
Gabriel Thomas
If two girls:
Lilianna Elaine
Rhiannon Elizabeth
If two boys:
Gabriel Thomas
Christopher Brian
So far everyone loves them, but we don't really care if they didn't :) Don't go embroidering them on anything just yet, but we do think we're pretty set.
I think what this post really needs now though is a gratuitous Nicky photo and maybe a movie!
Nicky swinging at the park near Aunt Liz and Aunt Jodi's house: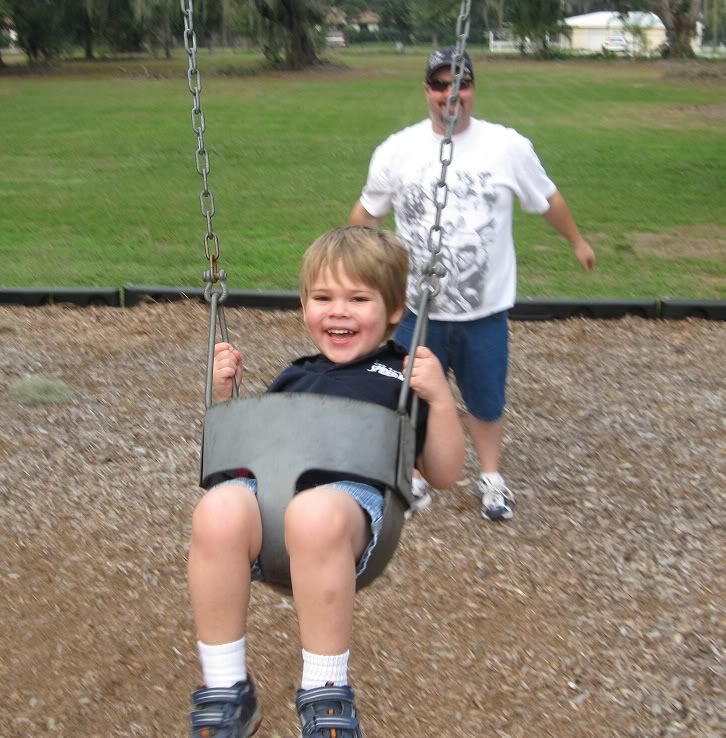 Nicky all dressed up in his tool set from Aunt Liz and Jodi:
Nicky, the Toe-Biter, overly tired and rapidly deteriorating. We were at Grammie's house and he was dressed for bed, but we were waiting for Aunt Jodi to get off work so we could open presents.
And Nicky, in his room full of toys...playing in the box the new TV came in. (It was a replacement for the one we bought in September that had a factory defect.)