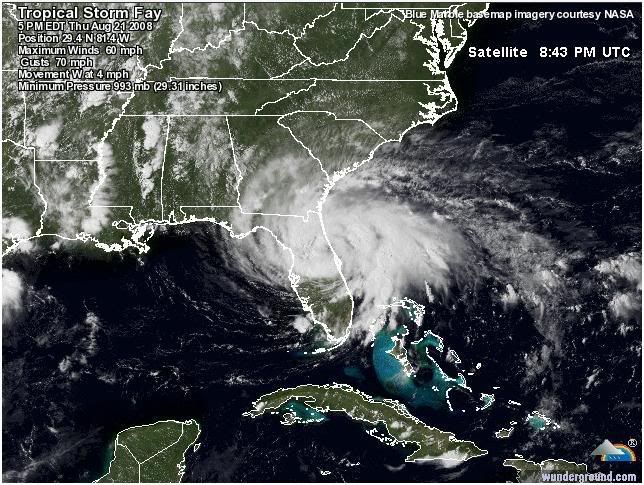 Looks like today is Fay Day around here. This is the current picture. So far we're getting a lot of rain here, but we're pretty high so I think our house is going to be ok. We have picked up most everything in the yard so they won't fly around. We have bottled water and some canned and dry foods. The only thing I wish we had done before would be to get more propane for the grill, but then again I wouldn't know where to keep it. Wouldn't want that flying around and wouldn't want it in the house.
We still have our power on, which is very good. That's really what we're mostly worried about. It really only takes one good limb or tree falling on a line to mess with the power.
I took yesterday and today off to be with Mom. She's visiting us over the last week and we've had a great time. It was so nice to spend yesterday with just the two of us shopping and going to the art museum. Today we've been sipping tea and playing cards while keeping up with what Fay is doing. Tomorrow UF is closed which is such a relief! I really did not want to go in with this storm sitting right on us practically so I'm awfully glad they finally decided to close it.
So far we've heard from the folks down in Pt. St. Lucie. They're flooded around there although it sounds like my relatives homes and business are ok. My cousin's car had a tree fall on it though. I'm just glad she wasn't in it! They said the wind wasn't too bad (especially compared to Frances and Jeanne in 2004) but that the rain was just insane! US 1 is totally flooded and they had over 2 feet of rain. That's just nuts!
Jodi said she's ok in Lake Placid and the storm isn't affecting them anymore. She didn't sound worried at all so everything must be ok there. Liz finally called us. She's in Orlando for an art seminar and has had a lot of rain and a tree fell on the building she's in. But she is fine and the building must not be too damaged since they're all still there. We were very glad to hear from her though. We were worried!
Now I have a cousin up in Jacksonville, so hopefully he and his family are all ok. They're close to the beach, so are probably getting a lot of wind and rain.
Nana's in Tampa and should be fine. Charles and JM are in Ocala though and probably are getting tons of rain. Hopefully they'll not lose power for too long. They're prone to outages in their area even in the best of weather.
That's the update for right now.