Taxes are done. Nicky's been to the eye doctor and we have a new pair of glasses for him on the way. The trees were trimmed in front of our house. All the kids saw their first snow. We've moved the queen bed to the shed and Nicky's twin top-bunk to his room. It's been a busy weekend!
Nicky is doing fairly well on his sight words and staring to practice on his new whiteboard in the kitchen. We had used my old business cards (that were due for destruction since they had the wrong address), there are about 1000 of them and they make perfect flashcards. He has 55 cards with his sight words plus a few extras.
We made them like a game. If he gets the word right, he gets the card, if not, then I get it. The first day he got 27 and I got 28. Then last night we did them before bed. He was tired and not focusing, but he still got 22 of them right. We totally forgot them tonight. We had a lot going on!
He also has started using the whiteboard we made for him in the kitchen. I showed him how it worked and then invited him to write. He spontaneously decided to write math problems on it. He did subtraction problems, which as I recall, was fairly advanced for Kindergarten in my day.
My hope is that by making writing fun, he'll get in some practice with letter/number formation, spacing and sizing. So even though I didn't expect him to come out with math problems, that works just fine for my purposes!
Saturday morning I took Nicky to the eye doctor. His glasses are just about a year old, and he'd scratched them all to hell right before we left Gainesville. No one was willing to get the prescription off the glasses without an exam, so that's what we did. He was very good for the exam. His vision is only a hair different that last year. He's farsighted with astigmatism in the right eye. I'd noticed his difficulty reading the sight words on the cards, so being farsighted really makes sense. Hopefully his new glasses will help. I made him try on like 20 frames, but he wanted a particular pair of blue frames, so that's what we got. They're more rounded than his old ones, but not really round.
On the way home we noticed that we couldn't get to our house. There were three huge tree trimming trucks exactly outside our house. We parked around the corner and walked around. Nicky was very excited about that!
But he was even more excited when Saturday night it started SNOWING! He was running around in his underwear before dinner (he's hard to keep clothed) and he was running around the house like a lunatic he was so excited! It took him about 15-20 minutes to get his act together long enough to get dressed (mostly, I found out later he'd gone without socks). And then he went outside with Tom and got to play in the falling snow with his friends.
Sunday morning the snow was still there!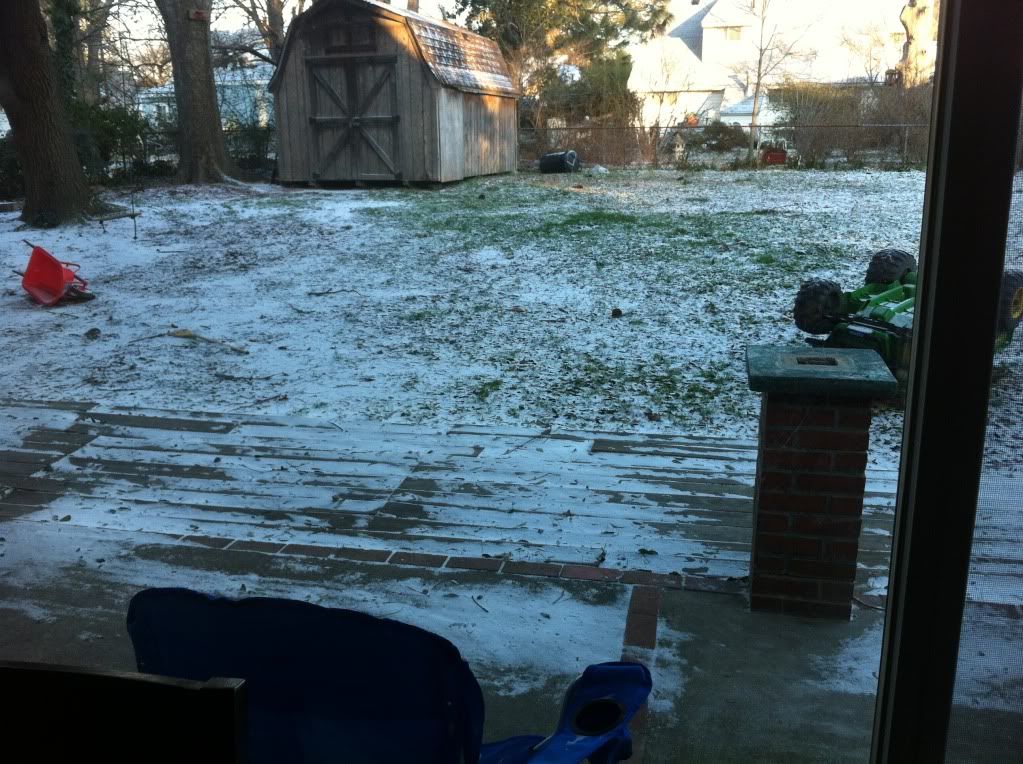 I woke up Nicky to check it out, but he wasn't all that excited. He is definitely not a morning person! But after an hour he was ready to get dressed and play in it. He lasted about 5 minutes before coming back in. His hands were red and cold. It was about 27 degrees out, so it was really too cold to play much. I warmed him up and got him changed to go, because...
we went to do the taxes Sunday morning. That was fun. We had all the kids with us, but then it turned out that while we were 15 min early, the guy before us was running late, so it bumped us back about 30 minutes. There was no way the kids would make it thru such a long wait, so Tom took the kids home and I stayed, did the taxes in peace, and they just came at the end for Tom to sign things. It worked out really well that way! We're not getting back as much as the last few years, but still it will be good, and we didn't owe. I do need to adjust my W4 though so that I'm not claiming so much this year.
Tonight we had Chicken Taco Chili, which is delicious! I'd first had it with my Bunco group a few months ago, and got the recipe from the ladies there. It's done in the crockpot, which is awesome, and it's easy and fairly cheap too. (Also awesome!)
We used this recipe
.*
Gabi had a short-lived stomach bug last week. Basically we found out in the morning that she'd thrown up sometime in the night, but that was it.
Well, Lily came up with it tonight. Right at dinner. I could tell she wasn't feeling great, and she wasn't really interested in food much, and then blurrp. Not the most fun at the table, but we dealt with it, gave her a little Tylenol as she felt feverish, and then she perked right up. Hopefully it is the same one-timer thing.
After dinner we moved the twin bed from the girls' room to Nicky's room. We'd moved out the old queen bed earlier in the day, and we had to get that moved around so that he could go to sleep. It's all done now, and he's happily ensconced in his new bed with his Transformer sheets and Micky Mouse comforter.
Actually, as soon as it was made up, the girls crawled into it and pretended to snore. Nicky soon joined them. It was super cute.
The only other thing is that we've done all this with me being practically disabled by some kind of stomach pain since Friday night. We think the hernia that I'd gotten with my first pregnancy and that got a lot worse with the girls' pregnancy, is finally acting up. I'm back to wearing the binder I'd worn after having the twins. Now i just have to find a doctor to see me ASAP so that I can get this taken care of. It makes breathing, bending over, lifting things, and pretty much everything else excruciatingly painful. And don't even let me think about coughing or sneezing! I'd really hoped Friday that it was just really bad gas pain, but since it hasn't moved or gone away after 48 hours now I think it's got to be the hernia. We'd hoped maybe just a muscle strain, but a strong muscle relaxer hasn't helped, so there you go. Lovely.
I'd probably be inclined just to put up with the pain, except that it could be dangerous and I really don't want to end up in the ER, and it makes me next to useless in doing things around the house or with the kids. Basically, once something hits the floor, chances are it's staying there till I can convince someone to come get it for me.
Anyway, that was my long weekend. How was yours?
*I can say "we" because I found the recipe. Oh, and I shredded the chicken! But really otherwise it was Tom's cooking. You know, "technically."