Just a quickie post before I run off to bed...
The girls were baptized the Monday after Thanksgiving and the dresses were gorgeous. JM took some photos and I'll post them when I get them. Tom and I were too busy to even try to take pictures ourselves. Aunt Liz and Miss Kris are their godmothers and Father John did the ceremony. He gave a really nice talk beforehand, describing the ceremony and what the various parts mean. I think that's Tom's favorite thing about Father John, that he gives the history behind the ritual.
We had quite a crew there. Liz and Jodi and my Mom were all there. My Dad, Gwen and my Aunt Janice were there. Tom's Mom, Dad and JM were there. And Kris was there along with three people I work with. I made a cake and afterwards we all had cake and soda.
The ceremony itself was very nice, but we were all surprised when Father John said he was happy to see the font was deeper than he thought so we'd be able to do the whole immersion. I think we all just looked at him with our eyes big as saucers and then we just went for it. We weren't at all prepared for the immersion though. The priest who'd given us the supplies hadn't been either, so we had basically a hand towel and two washcloths. I think Gabi went in first, and then Lily. I dried Gabi off as best I could with my shirt and the hand towel, and passed her off to Liz I think. Then I took Lily and just used my shirt and the washcloths to get her dried as best I could. Then we ran over to get them into their dresses so they wouldn't freeze. That water was cold! Well, room temperature, but still cold!
We got them all calmed down though and dressed. Finished up the ceremony and then had cake. Lily was doing fine with the crowd, which as our little extrovert isn't a surprise. But Gabi only held it together for maybe 5 minutes or so. Then she decided she'd had enough of it all. She had been dunked in water and changed into a big fluffy dress, she was hungry, she was tired, and there were just too many people around. All that added up to a complete meltdown. Tom and I spent a good portion there at the end with the girls in a dressing room trying to heat up bottles, shush babies, and change them back to the only outfits we had for them other than the dresses. (Because there was no way they'd fit in their carseats with the dresses on.)
Lily actually passed out on the floor. But Gabi was inconsolable. She screamed like someone was killing her the whole way home. When we got home we hurried to get them both inside and the second I unbuckled her to take her out she stopped crying, and the instant I had her up on the changing table she was all smiles. Spoiled girl. She just prefers being at home.
Lily in all her splendor: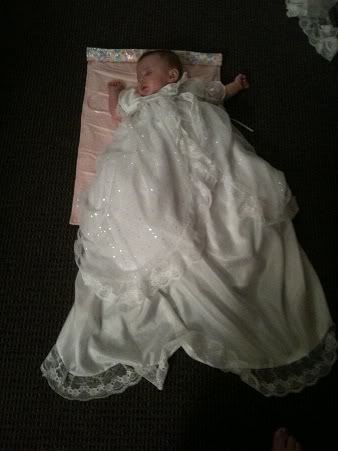 All in all it was a lovely baptism and I was so happy so many folks could come. I only wish I'd had more time to visit with everyone. I had actually taken off Monday because I was sick. The girls and I all had that cold and weren't feeling very well. But that was my last sick day for a while, and I hadn't though to take Tuesday off in advance. Well, we'll just have to visit with everyone for Christmas!
Speaking of Christmas, Nicky and I have been going on a few outings to get ready for the season. Thursday, he and I went to a holiday concert at the community college. It was an hour long, and they sang a bunch of songs. There was even a lady there doing the songs in sign language. This was Nicky's first attendance at a performance (other than that half of the Bob the Builder show we went to a year or so ago). And he did Great! He clapped at the end of each song, and really didn't wiggle much at all. I was very impressed. He said the show was "Awesome!" when asked and so I'd say it was an excellent experience all around.
Then Saturday Nicky and I went to the ballet. Thursday at work I scored two tickets to the city ballet's production of the Little Match Girl from a co-worker. Yep, this is the Hans Christian Andersen story about the poor little girl who freezes to death. Kind of a downer, eh? I told Nicky the story in the morning while we were getting ready for the play, and then during the ballet I pointed out the parts we'd talked about. It wasn't a professional troupe, and there were dancers of all ages there. But Nicky really seemed to enjoy it. It was long. Two whole hours! With two 15 minute intermissions in there. He was really getting wiggly by the end. But he held it together, and clapped at the right times. He never tried to run off or be too loud either. When asked, he said it was great and awesome, so I'd say he had a good time. We walked through the gift shop of the museum next door to the theater, and got some good ideas for Santa. And then headed home.
Then later Saturday night, Tom and I went and finally saw the new Harry Potter movie. Usually we see those the weekend they come out. But it's pretty hard to get away these days. Fortunately Nana and Grandpa and JM all came to our rescue and teamed up to watch the kids for us. The movie was really long! It was the 8:30 show and as we were walking out of the theater it was after 11pm! But it was really good. I'm glad I didn't re-read the books right before it though. I'm sure lots had to be changed for the movie, and I had enough distance that I didn't really notice anything. Of course NOW I'll have to re-read them though. As expected, the movie ends on a real downer, but then it is the middle of the book! I hope the final finale is worth it this summer.
Ok, it's been a long day and I'm off to sleep! There is another holiday concert tomorrow night. This time at the university. I'd really like to take Nicky, so we'll see how that goes.
Merry Christmas and Happy Hanukkah too! (Wish I'd been able to attend your Hanukkah dinner tonight Colin. I'm sure it was awesome!)