Well I shared that the girls started eating solid foods (other than a little cereal here and there) right at 24 weeks. They started with the sweet potatoes, just like Nicky did.
Next came peas, and then butternut squash, then finally they had their first fruit, pears. Then green beans, bananas and they just today finished up their first meat: chicken. During Thanksgiving they had some sweet potato souffle, without the topping, and some pumpkin pie. They loved those! Gabi adores pumpkin pie especially.
Lily took to eating like a champ, never turning down any food. Gabi was ok with trying out a little of everything, but if you gave her too many peas she'd finally start crying. She didn't really adore anything till the pumpkin pie. That gave them both a little red rash around their mouths for a bit, but it went away after a little washup. I suspect that was caused by the cinnamon/allspice stuff in it. Next comes apples, which I anticipate them loving!
We had a very nice Thanksgiving feast. Tom made a ham this year instead of a turkey, and I have to say it was so much easier! Much less cooking time since mostly you're just heating it up and glazing it. I wouldn't mind doing this again, but I think we're committed to a turkey for Christmas since everyone seemed to miss the bird. Tom does make awesome turkey I admit. I'm sure JM was able to get a better pic, but this is the one I took: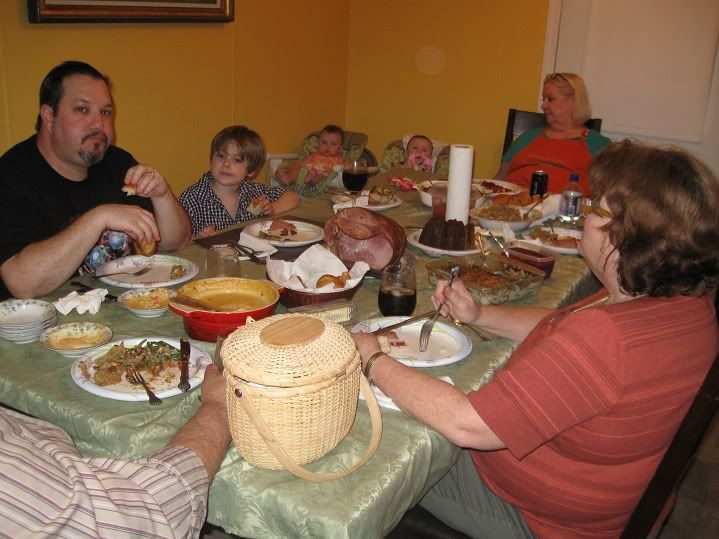 Now we have the girls' baptism coming up Monday November 29th. I'm hoping to get a few good photos and movies of that event. The girls have beautiful gowns their Nana made for them. I can't wait to see them in them!
I am definitely not a pro at this event thing yet. But we'll have a nice gathering. My Dad, stepmother Gwen and my Aunt Janice have come all the way from North Georgia to attend. Liz, Jodi and my Mom are coming all the way from South Florida. Tom's Dad, JM, and Nana are coming and I have a few folks from work who might come. Our friend Kris will be there also, and Liz and Kris will be the godmothers. Since the baptism is kind of late, 7pm, we'll just have a cake and drinks afterwards. I was going to buy a publix cake, but the only real options were either a plain cake with flowers or one with a cross of some sort on it. I don't know, it just seemed a little weird. So I opted to make a cake instead. It's amazing what you can do with sprinkles and a bunt pan.
So anyway, baptism shots next time. And hopefully that will be done BEFORE Christmas.
Oh, ok, one more. This is Friday, after Thanksgiving. Nicky was entertaining Gabi.