So, it's now April 17th. Must be time to do that birthday post for Nicky's 6th birthday. You know, the birthday that happened on MARCH 17th.
Nicky had a Star Wars themed party, and I must say, it was quite awesome. Kudos to me!
He had his two friends from next door come first. Then later, my friends from work came with their 2 year old. None of his little friends came from his class, but that's probably to be expected since I didn't know any of them or their parents.
First off, the invitations were super cute.
Then when the kids arrived I had a whole itinerary worked out for them.
First they had to prove themselves to be fearless warriors by using a blaster on the mockups of two of our Sith enemies: Darth Vader and Darth Maul. (Who were hung up on the side of the barn for the party.)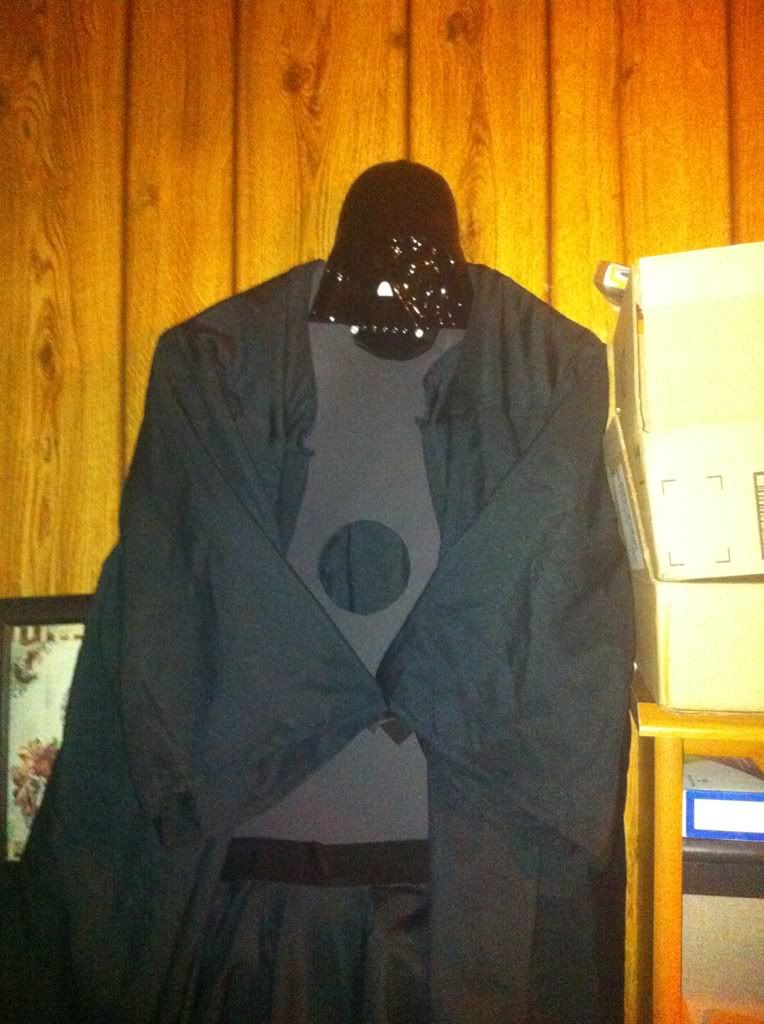 Upon proving their mettle, they were each awarded with a Star Wars tattoo of their choice to recognize their warrior skills.
Next they had to learn to use the force. To do this, they had to learn to use more than their eyes to see. They were each blindfolded, spun around and had to let the force guide them to pin the lightsaber on Yoda. (This was taped up on the outside of the dining room window. I wrote each padawan's name in sharpie on the lightsaber and we used a piece of double sided tape.)
Upon completion of their training in using the force, they were awarded their Jedi weapon, the lightsaber. The padawan who was closest to having the lightsaber in the right place, got to choose first. Yes, I made 8 of them. Turned out perfect as each kid got to take one home and that left Nick, Lily, Gabi one each - and one each for Tom and I :). I used the instructions I found
here
.
Once they had all chosen, and decorated, their lightsabers (with blue and red glitter foam star stickers) they were turned out to the backyard for training. Unlike Luke Skywalker, whose remote would zap him periodically, the targets for our lightsaber practice were 20 blue balloons that were released into the yard. The idea at first was to try to keep them up in the air, but with a nice breeze blowing them all over, it quickly changed to wacking the balloon targets till they all popped.
When their lightsaber practice was over, it was time for them to receive their first mission from the Jedi Council.
Even now, as we celebrate Nick's birthday, up in outer-space is a terrible weapon, the Death Star. The Empire has brought this weapon and now seeks to use it to destroy Planet Earth! In order to save the planet, the Jedi Council has sent our padawans a scale model of the Death Star, and if they can use their Jedi powers to destroy the model, it will in fact, destroy the full size Death Star that is threatening to blow us all up. But a regular lightsaber will not do it (we actually tried it with our lightsabers, but alas, the Death Star's force-fields were too great). So the Jedi Council sent our group a very special lightsaber from their archives. It is the Golden Lightsaber, and it will take all our skills and concentration to use it to destroy the Death Star! (The Golden Lightsaber turned out super cool and I LOVE it. It was just a broom handle we used to use to block the sliding glass door. But add some silver and gold duct tape, and VOILA!)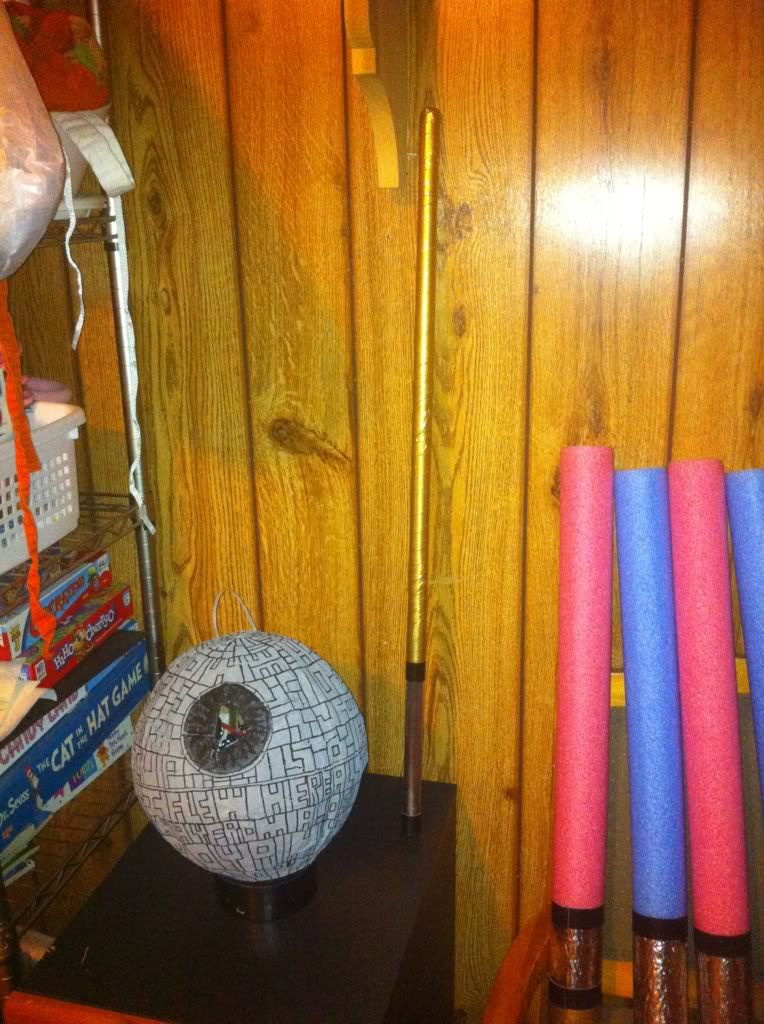 So we all took turns with Golden Lightsaber. And eventually we were successful! We destroyed the model of the Death Star, and in doing so, we released the treasures of the Empire for our Jedi to enjoy. It also made the real Death Star in orbit around the Earth explode in a spectacular display! Unfortunately it was very cloudy and so we couldn't actually see the explosion.
Mixed in here and there we also ate pizza, pretzel lightsabers which were dipped in colored candy melts, chips and then of course we had a lightsaber cake! Oh, and there were presents too. The kids were really great and knew that the little padawan was going to be arriving after his nap, and so they collected a whole cup of Empire Booty from the Death Star for him. I don't like doing too much candy in a pinata (too boring in my opinion) so it was full of red "lightsaber" crystals, diamond rings, silver, blue and red mardi-gras necklaces, Star Wars notebooks and confetti, glow sticks, and some fun size M&Ms.
The Awesome Lightsaber Cake! (That I made. Using rice crispy treats, icing, edible spray paint, metallic silver sprinkles, and edible black glitter gel.)
May the Snacks be with you!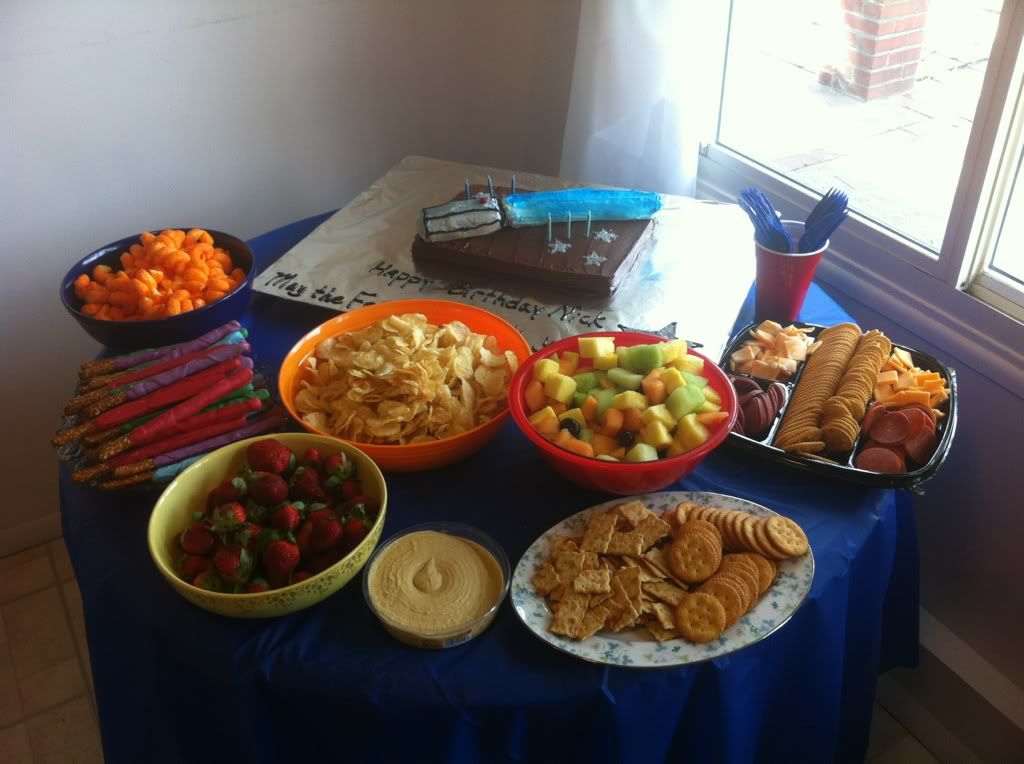 Then since we just had the neighbor's kids, we let them watch some Star Wars (episode 4) and chill out for a while. Instead of the party lasting from 2-4pm it went on till I kicked out the neighbor's kids at about 7:30.
All in all I think Nicky had a great time at his party. I'm so glad he chose to do this instead of Chuck E. Cheese!