Interesting. So my last post we'd just picked up Nicky's new glasses. And this weekend, I just took Nicky to have his glasses fixed. And here I'd thought he had them for about a month. Nope, apparently only 2 weeks. Gabi grabbed them from him in the car and bent one of the arms so badly that the entire frame had to be replaced. Thank goodness for replacement plans! They had the frame in stock and were able to replace it in a few minutes.
Nick had a cough/cold for about a week, and then Lily came down with it around Tuesday and Gabi followed her around Thursday. Friday we took them both to the pediatrician to check their ears (which were luckily ok). We were also given the go-ahead to give them benadryl to help dry them up. I think it's helped a lot. But they're still both coughing quite a bit. Last night was the first night since Tuesday that they both slept through the night without us having to get up to soothe them through a coughing fit. They do like their warm chamomile tea with honey though. That helps too.
Of course I had to come down with it too. This is the time of year I seem to get my month-long asthma attack anyway. My plan had been to get on a daily treatment in about January in hopes of preventing it, but of course I haven't bothered actually getting a doctor for myself yet. Might have to I suppose, but I'm hoping I can just shake this off. We'll see.
I finally ordered a king size mattress set for Tom and I. It should arrive in a few weeks. Here's hoping it doesn't suck. I figure it can't possibly be as bad as the mattresses we've slept on for the past 5 years or so, so there is that. I'm just really looking forward to the space! The two of us have been sleeping in the full bed since the start of December. And with Nicky being sick there have been several nights where he ended up in there with us. That is just too cramped!
What else... Oh, I'm going to BlogHer this year! So excited about that. It's in August, so it still seems far away, but the registration is bought and paid for, so it is official!
Speaking of official... Kenji almost officially overstayed his welcome. We cannot seem to get him to control himself in the house. He's been peeing AND pooping around the house, and I'm thinking that this is also the reason behind the mysterious puke-bugs the kids have been getting that Tom and I have missed. He was an inch away from going to the pound, but then I felt guilty and thought we'd get a crate and try crating him at night and when we're not home. (Not that this is the only time it happens, but it's a start.)
At first I didn't think that was going to work as he cried the ENTIRE FREAKING NIGHT the first night. OMG I was gonna kill him. I thought he stopped around 4am, but no. He actually somehow made the door of the crate FALL OFF and was out.
The second night he again cried all night, but he didn't get the door off, and I closed all the bedroom doors. I could still hear him though.
The next night I put the crate in the utility room and closed the door. THAT helped, although he still cried.
By about the fourth night though, I think he's getting the message that he might as well shut up. If he hears you nearby he'll fuss, but otherwise he's pretty quiet. We still have him in the utility though (with two towels and a blanket over most of the crate for warmth). I'm hopeful that this will take care of the nights.
BUT his other major issue is that he's jumping the fence and running off. Hell if I'm going to chase him though, so he will likely end up as roadkill if he keeps it up. I figured taking him to the pound to be adopted would be less traumatic on Nicky than having him smashed into smithereens right outside our house, but my co-workers came up with an idea for me.
Aside from getting him fixed, which hopefully will help (and one of my collegues gave me a link where I can call to have him fixed for a much better price than I was quoted at PetSmart), one of my coworkers gave me a tie-down with a thin lead of about 15 feet that we can use to stake him out in the yard. That way Tom can take him out, tie him up and actually go back inside while Kenji has some outside time. Before Tom had to stand out there with him, and that still wasn't a guarantee he wouldn't jump the fence.
So now he's been washed, groomed (by Tom- not quite grown out enough for a real grooming yet) and Advantage-d. So he looks better and hopefully with the fixing, crating and tying he'll learn to be a better dog and fit into the family better. Because I AM TIRED. And the last thing I need is more bodily functions causing other bodily malfunctions.
What else can I complain about?
Well I can't complain about Tom. He had his birthday this last week. He actually let me go on a work dinner ON his real birthday, which was really sweet of him. I had a great time with my co-workers (and got help on the Kenji situation at that time too). We celebrated his birthday on Saturday, with just a nice dinner (that he cooked actually) and a small cheesecake (which OMG the girls LOVED that!) Nicky signed the card I'd picked up for him, which was sooo sweet and it's just amazing how he is starting to sound things out and write!! So awesome! And we got him a gift certificate to Amazon (to supplement his gift to himself of a Kindle Touch). He seemed to like it. Tom's not much into big birthday bashes, and I think it was just his speed. We'll do a big shin-dig for when you turn 50 honey. (Which I'm pretty sure won't be for another decade or so since I'm staying 39 for a few more years.)
And I can't really complain about Nicky either. He's such a sweetheart. He IS driving me around the bend with wanting us to buy him everything RIGHT NOW, but he's earning his allowance a nickel at a time with his behavior sheets at school, and while he's not raking in the dough, it does seem to help motivate him. I'm not buying him anything right now though because his birthday is coming up and he just has to wait for that. So when we're at the store, I take his photo with things he wants.
An Eagle Kite. (Specifically the EAGLE mind you.)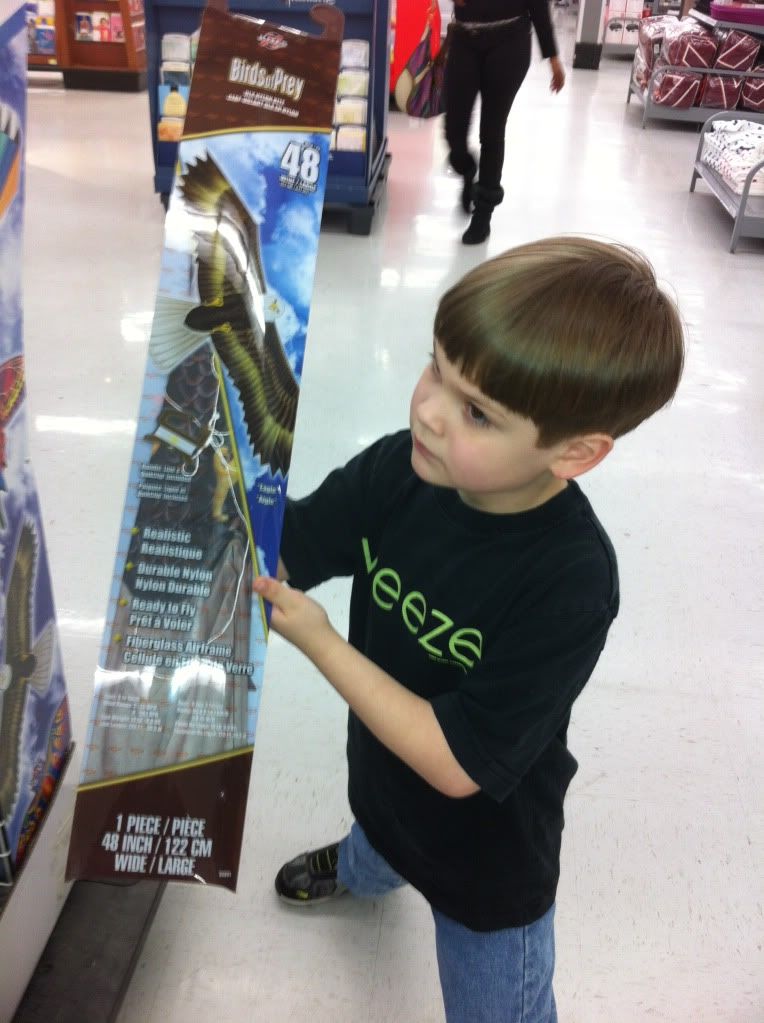 This green Hex Bug Inchworm.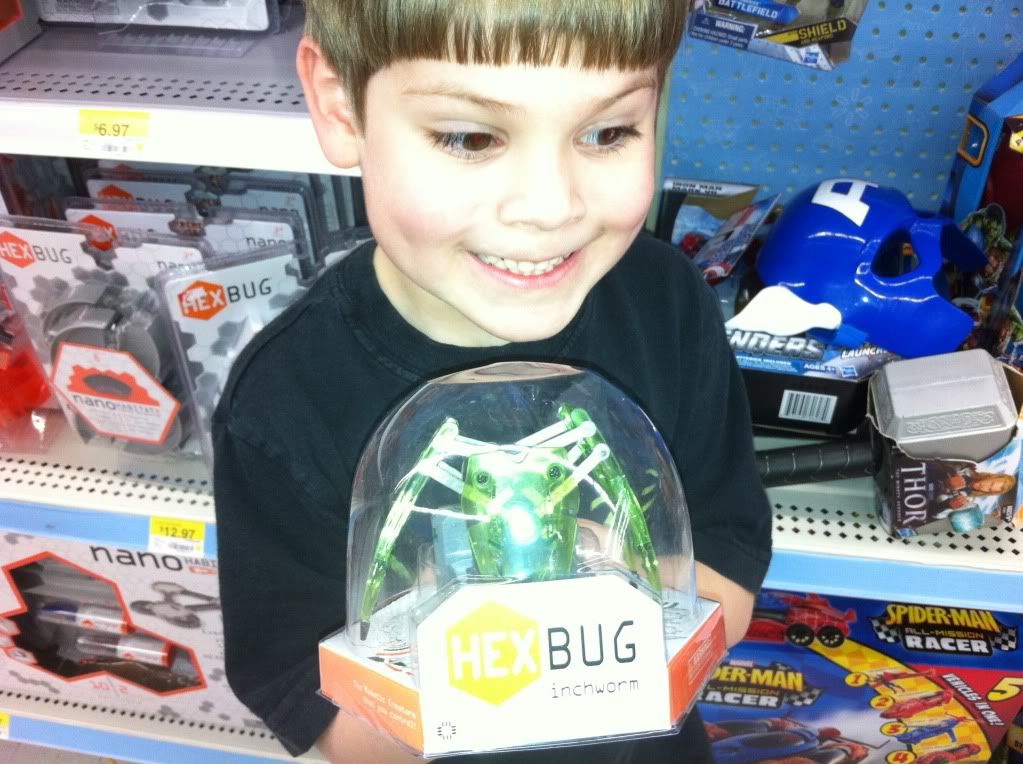 This Star Wars Remote Control Republic Fighter Tank
This Bakugan Battle Suit (whatever the hell that is)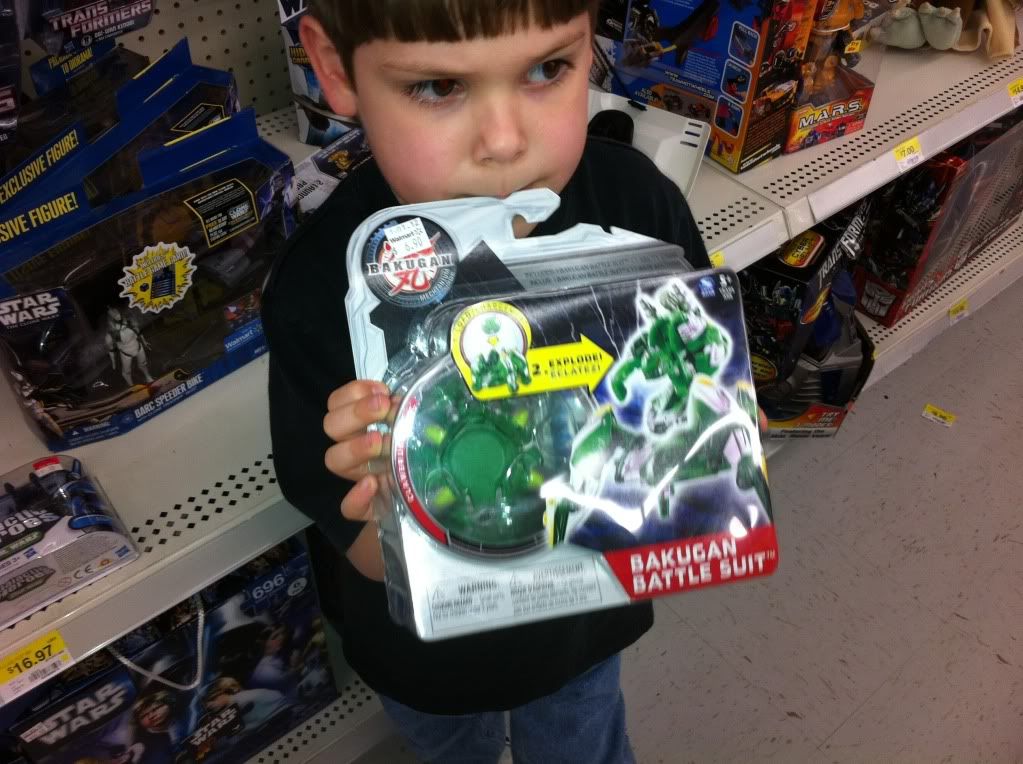 This GloMate rechargeable nightlight that changes colors
These How To Train Your Dragon sunglasses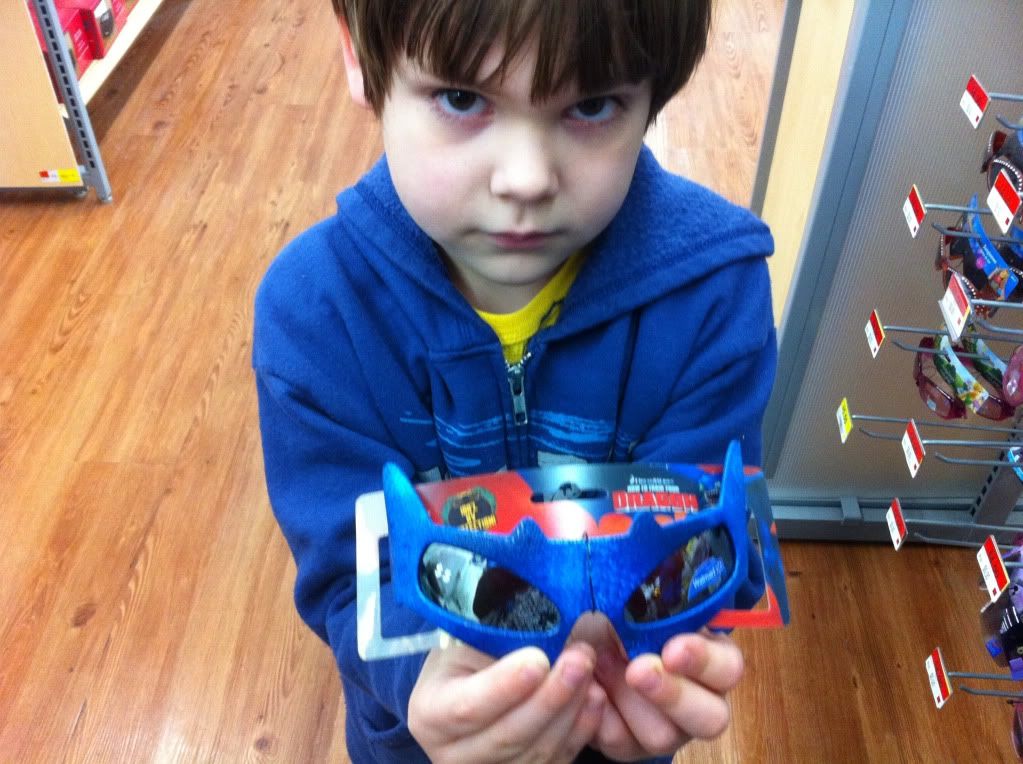 He is also mad about legos, and getting more-so all the time. There are kits that make city-scapes he's interested in specifically, but it looks like some of them cost a zillion bucks. There are smaller ones though, and they have some of the specialized pieces that could go with normal legos. He's just going to build something completely new anyway, so I think that's fine.
He still loves transformers too, and the specific ones he's asked for are:
A transformer tank
Sentinel Prime- Voyager Class
Crankcase- Voyager Class
Optimus Prime- Voyager Class
He's also asked for:
"Real crystal rocks from a cave" (think geodes and crystals like that)
I'm putting together a Star Wars birthday party for him and we're actually doing it at home instead of at Chuck E Cheese. I am SO glad! It was going to be 213$ just for 6 kids and 11 adults. And that pizza is really horrible. I took Nicky there last weekend, just he and I to play games till we ran out of tokens. The food was no better. Ugh. We'll do his birthday up right from home though. He has about 6 kids in mind, so I can manage that here I'm sure.
It's going to be great. I'll have more details later. Here are pics of the girls to tide you over till my next post!
Lily cuddling Curious George:
Gabi enjoying a pear slice: